The beautiful South of Amsterdam consists of history and contemporary culture. Here you will find museums such as the Rijksmuseum, the Van Gogh Museum and the Stedelijk Museum. What you can visit even more in Amsterdam Zuid is the famous Vondelpark. Here you can enjoy walking or cycling. There are also plenty of nice shopping streets and restaurants. In short, you definitely want to visit the vibrant Amsterdam Zuid.
Are you looking for a hotel in Amsterdam Zuid? Then you are always welcome at the Amsterdam Van der Valk hotel, where you can enjoy a relaxed atmosphere. The hotel is centrally located near the A2 motorway and is therefore easily accessible by car. The hotel is also easily accessible by public transport. The Overamstel metro station, for example, is a 3-minute walk from the hotel. Van der Valk Amsterdam-Amstel has various facilities. If you stay overnight, you will benefit from several advantages:
· Free internet
· Free access to wellness and sports facilities
· Bicycle rental
· Parking on site
· Charging poles for electric cars
· Public transport at 3 minutes walking distance
If you would like to hold a meeting in the capital, there are many meeting venues in Amsterdam to choose from. Van der Valk hotel has 11 beautiful conference and meeting rooms. The rooms are equipped with various facilities such as a handheld microphone, flipchart and a laser pointer. These facilities are available on request to complete your meeting.
Would you like to relax after a long working day or meeting? Then you can make use of beautiful break-out space. To arouse your creativity, you can relax here. You can also enjoy coffee, tea or a refreshing drink in the lounge.
Are you looking for an ideal meeting location in a central location? Then stop by Van der Valk Amsterdam-Amstel. For more information, please call 020 80 01 100 or send an e-mail to amsterdam@ valk.com.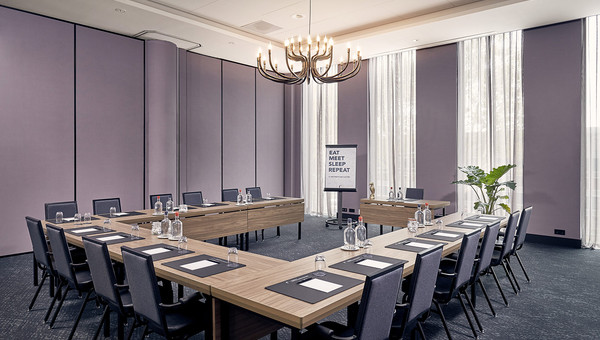 Valk Amsterdam South